Creative writing – with a light hand
Prerequisite: curiosity to get involved in the adventure of writing.
Material: Please bring your own writing utensils, note book etc…
Paper and pens for the exercises will be provided
The goal of this workshop is to ignite or deepen the joy of writing. We will learn about different ways of expression and put them into practice. Back home, we will continue writing with fresh motivation.
Creative writing is a wonderful way to encounter God, one's own heart and recognise the heart of others.
We will travel the world of words, do different exercises in short texts and discuss them with each other.
Topics will include:
-Tips and aspects around creative writing
various text elements
-linguistic means of composition
-texts in connection with pictures or music
-writers in the Bible
-prophetic writing
Please be welcome to the adventurous journey of creative writing!
Teacher: Hanne Cullingford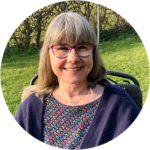 Hanne Cullingford is married has 4 grown children and loves words.
Words that are clear and understandable, that are newly conceived and yet hit the mark. Words that are healing. Hanne's inspiration for writing usually comes from everyday life, from looking at nature, in connection with music and painted works of art or simply from the spoken word.
For Hanne it is a great joy to experience when dumb hearts find words again and know each other is understood.