Coldwax-Workshop – try something new
This C.W. workshop is my invitation to you for allowing yourself to experiment with colours, structures, shapes, layers … and to enjoy it.

Coldwax mixed with oil colour or pigments enables you to work intuitively either on wooden bodies, on oilpaper or on canvasboards. While you put layer after layer you are getting engaged with your workpiece.

You will explore new things, and you will be surprised by the effects and the content that come out of this working process, either in an abstract or in a realistic way of art.
Going through this process with God, you will see a painting that carries His handwriting and that speaks to your heart.
This C.W. workshop is suitable for all kind of ARTists: newcomers, curi-ous, long-term artists, professionals … all who love to try out some-thing new and intuitively creative, or who want to go deeper in their C.W. art expression.
Please provide on your own:
1 apron, one way gloves , small cotton rags , 1 "Tesa" tape, baby oil for cleansing, paper and backing paper for transport
Things you need to bring with you:
Please provide your own range of oil colours (either you bring your own favorited colours or you take a sales mix)
1 tube zinc titanium white, 150ml
1 tube black or asphaltum 40ml
Please bring your painting coat
1 package of disposable gloves
1 bottle of baby oil
Things we provide:
Tools, coldwax, oilpaper, canvasboards etc., material …
Total material costs: 40€
I am looking forward to see you in the C.W. workshop … we will have a good time together
Teacher: Maria Stute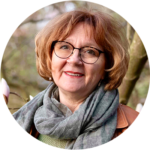 Maria Stute comes from Bavaria and has lived in the Ruhr area since 1981.
She has been married since 1987 and has 4 adult children with Meinolf.
Together with Mayra Pankow she heads the prophetic painting team at the Christ Church in Duisburg, is part of the Transforming Arts network and works in an artist group: Kairos HeArts.
She works artistically in her studio with cold wax and oil paints/pigments, with acrylic, with mixed media and also with collage techniques.
She leads workshops at home and abroad, or in her own studio with smaller groups.
She takes part in national and international exhibitions, as part of Christian conferences, church conventions, etc., but also in the secular area (doctor's offices, car dealerships, hospitals, Max Planck Institute, PVS …)
With her art she wants to bring inspiration, change, new ideas and values from heaven to earth.
In nature, with all its colors and shapes, she often finds inspiration and incentive for her creativity.
But the source of her art is her relationship with the living, creative God.
More information at:
Facebook page: M.S. Crown