The Portrait Challenge
Course description
Would you like to learn to draw faces?
You avoid people in your pictures because you're afraid they'll look ob-viously wrong?
Then I have a challenge for you! With 24 faces and even more drawing tips, you'll learn step-by-step how to draw a person's portrait – and by the end you'll be able to draw a face everyone can recognize. Because practice and technique are the keys to it, and you will get both in this course.
Drawing portraits is fun and gets easier with each picture. Drawing feels like getting to know the person while studying every detail of their face, and the finished portrait is like meeting an old friend.
Drawing portraits is like a celebration of our likeness to God, our differ-ences, and the rich expressions the Creator has placed in our faces.
Material:
– One or more soft pencils (hardness B2 to B6)
– Two drawing pads with slightly rough paper and at least 90 g/m²: A4 (at least 30 pages) and A3 (at least 10 pages).
– High quality soft eraser
– Sharpener
– Charcoal and/or charcoal
Optional: kneaded eraser, pencil eraser or electric eraser
Teacher: Barbara Marzell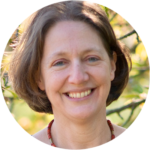 Barbara is living near Gießen in Central Germany. Together with her husband, she has two adult kids, two pollinator friendly gardens, four bee colonies and the ambition to cause as little plastic garbage as pos-sible. Prayer is her spiritual lifeline. After studying nutrition sciences, she worked in the pharmaceutical industry for many years before be-coming a freelance medical writer. She started painting in 2013 after visiting an art class because of her daughter and discovering her own passion for making art. Since then, she learned painting in many online classes and by her own experimentation. Portraits are her favourite subject matter:
"People are fascinating: How they tick, what touches them, what makes their eyes shine and what hurts them is both highly diverse and multi-layered. I paint my observations, my experiences and their subjective interpretation as expressive portraits. My work is an invitation to a lov-ing look at humans and to appreciating the individual. Each of us mir-rors God as his image bearer in a slightly different way, and I love cap-turing this mirrored image. Oils and acrylics, charcoal and collage are my preferred media. Usually, my work has a strong drawing element. I have also been teaching drawing and painting portraits in online classes since January 2021."