Working in series – finding and strengthening your painting language –
One of the best and most rewarding ways to find your personal expression in your art is to find the features (shapes and lines) you carry that make your creative expression authentic.
Focusing on a theme, color, and shape for a period of time allows you to develop deeper expression and add depth to your work. This allows ideas to take full effect and add recognizable elements to your work.
This workshop is aimed at beginners and advanced students who want to seek new depth in their work.
We will be working on paper with pigments, marble powder and acrylic binders.
All materials and tools will be provided in order to optimize your workflow. You should be able to create a minimum of 6 pieces at 30 x 30 cm each.
Skill Level: All levels welcome
Additional material fee: approx.40 €
Teacher: Mayra Pankow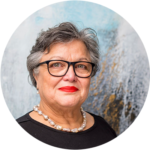 Mayra Pankow is a Mixed Media and Coldwax artist with her own studio and a gallery in her hometown. She conducts seminars in Germany and abroad. One of her passions is to bring people into their full identity as artists, finding their unique voice and to connect with God in the creative process and help them to position themselves as sons and daughters in their church communities, so that they can be send out and fulfil their mandate of transformation in society.
Her works are to be found in Europe, New Zealand and in America. Her dream is, that her art will find ways to bring positive change in areas like politics, finance and innovation. Mayra Pankow is an artist, who was born in Honduras and lives in Germany since 1990. She leads the prophetic creative work in the Christ Church community in Duisburg/Germany and is the founder of the European Academy of the arts and of Transforming-Arts.de
Married to Dietmar and together they have 4 adult sons.